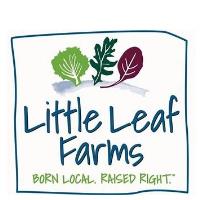 Little Leaf Farm, MA
City: Devens, MA,
About Us
OUR STORY
Paul Sellew had a vision for New England – a locally grown salad that was available year-round. As the founder of Backyard Farms, Paul mastered the growing and distribution of flavorful, greenhouse-grown tomatoes. He put his salad plans on the back burner while he built his next company, Harvest Power, into the largest organics recycler in North America. But after leaving Harvest Power in 2015, his interest in locally grown produce was once again piqued and he began to research the best lettuce growing systems in the world.
Paul took to designing the most sustainable technology for growing lettuce in New England. In Fall 2015, Paul was joined by Tim Cunniff, Backyard Farms' former EVP of Sales and Marketing. Realizing the opportunity to revolutionize the West Coast-dominated lettuce industry, Paul and Tim broke ground on the first phase of their 10-acre greenhouse development and began to line up customers.
Today, Little Leaf Farms is proud to have built the most technologically-advanced, lettuce growing greenhouse in the world. And Paul and Tim are excited to share with you the freshest, best tasting baby lettuces available in New England.
Practices
We believe there is a better way.
We grow our baby greens year-round in New England.
We use 100% captured rainwater.
We never use chemical pesticides. Ever.
We grow hydroponically to protect precious topsoil.
We only ship our baby greens to stores within a day's drive.