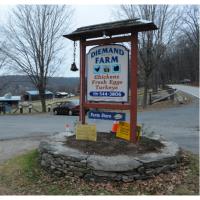 Diemand Farm, MA
Address: 126 Mormon Hollow Road Wendell, MA,
Phone: 978-544-3806
About Us
thediemandfarm.com
We are a small family business, not a large commercial operation. We raise and process our own poultry (indoor free range chickens and pasture raised free range turkeys) and farm fresh eggs.
In addition, we have added our own grass fed beef. Our grass fed beef and as well as our chicken and free range turkey are hormone and antibiotic free. All of which is available to buy in our farm store.
Diemand Farm has a small commercial kitchen. We create delicious home-style foods from our own farm raised meats and other local ingredients. Come in and pick out a pre-made meal, sides and desserts. Check out our prepared foods and catering pages for ideas of just a few of the items we make.
Our cooks come in on specific days to cook up their specialties. Since we may not have every item listed on this site please call a few days ahead. If there is something you want we'll do our best to have it for you.