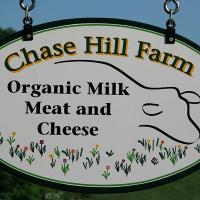 Chase Hill Cheese, MA
Address: 74 chase hill rd Warwick, MA, 01378
Email Address: chasehillfarm@gmail.com
Phone: 978-544-3752
About Us
Farmers

We are farmers tending to our beautiful patch of Northern Massachusetts earth and the animals under our care. We feed our animals a 100% organic diet that keeps them happy and healthy.

raw milk cheese, cave aged
made from the milk of our own herd of normande cows
certified organic, 100% grassfed

Chase Hill Farm is an Organic 100 % grassfed dairy selling farmstead cheese from our own herd of cows and raw milk, beef, pork, chicken, and eggs.
Practices

raw milk cheese, cave aged
made from the milk of our own herd of normande cows
certified organic, 100% grassfed