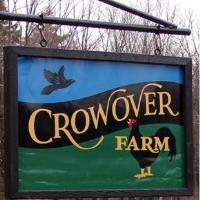 Crowover Farm, MA
Contact: Cynda Warren Joyce
Address: Crowover Farm 178 Hastings Road Ashburnham, MA, 01430
Email Address: cynda@crowover.org
Phone: 978-827-4874
About Us
Crowover Farm is a Small Holding in Ashburnham, MA offering:
American Guinea Hogs: Gourmet quality, heritage breed Pork
• Assorted cuts, Loin Chops, Roasts, Ribs, etc
• Smoked Bacon & Boneless Ham – No Nitrate or Nitrite added
• Roasting Quarters for the oven or backyard BBQ/Smoking
• AGH Piglets & Market Ready Hogs
Poultry Meat & Eggs
Perennial Flower Plants & Shrubs
Seasonal Vegetables, Herbs & Flowers
Farm Store Open Daily 8:AM-6:PM and by chance or appointment!

Practices
We pride our farm on the quality lives our animals experience; free to range and roam in an ordinary way. Our heritage breed American Guinea Hogs provide gourmet quality pork and lard, this is not the other white meat. Humanely raising our animals is an important ingredient in our meat, producing the most excellent pork, poultry and egg products we can offer. We practice sustainable, natural and many organic methods of farming using natural composting and vermiculture.