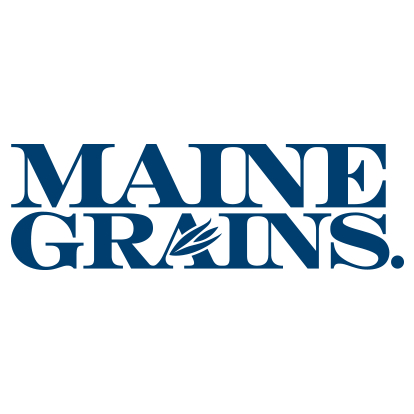 Maine Grains, ME
Address: 42 Court Street Skowhegan, ,
Email Address: jacki@centralmassorganics.com
About Us
Maine Grains serves bakers, brewers, chefs and families freshly-milled, organic and heritage grains sourced from the Northeast.
By re-localizing grain production and milling we support the health and livelihood of the farmers and communities we serve. Our traditional stone milling process ensures nutrient-packed products that are full of flavor and perfect for natural fermentation baking and cooking.
Maine Grains is creating jobs, improving land use, and providing healthy food for all while serving as a successful model for thriving local economies.
Practices
Our Story
A Renaissance
Skowhegan bustled when its paper, wool, and shoe factories were humming. As with grain, these industries left in search of efficiency and large scale, and the town, and its farms were left behind. Today, Skowhegan is fertile ground for an agricultural renaissance led by a new generation of thought leaders, farmers and food producers. By focusing on our greatest assets: grit, resilience, and agricultural know-how, we are creating opportunities. Our once vacant buildings are humming again with new life and new businesses.

"By collaborating and leading by example the gristmill project has helped to mobilize ideas into action. We set out to repurpose a significant historic building and create jobs and in so doing, have realized the great potential of a project to build strong collaborations and community wide benefit." – Amber Lambke, Maine Grains President


An Engine of Transformation
Maine Grains isn't just a new business, it's an engine of transformation. The mill has helped the town of Skowhegan take center stage in a global renaissance to relocalize grain economies. Maine Grains bold idea to repurpose a jailhouse into a gristmill has created an international following and Skowhegan has successfully established itself as one of the country's emerging rural food hubs. Communities across the globe look to Skowhegan as an example of how to successfully restore the benefits of regional grain production and heritage seed.

"Revitalizing Maine's grain economy has helped provide focus for economic and community development at the grassroots level in Skowhegan at this time in history. We are improving an economic cluster and creating new opportunities from milling and baking, to grain farming, malting, and brewing." – Amber Lambke, Maine Grains President


Fixing What's Broken
Exercising common sense, and learning from those that have come before us, we are committed to making the most delicious, nourishing foods from whole grains. Maine Grains uses modern equipment and methods that are steeped in tradition to produce freshly-milled flours that are full of flavor. Grains have long been at the center of a healthy diet and the foods that form our cultural identities. Maine Grains supports the innovators, educators and community builders that are restoring village bakeries, breweries, and thriving family farms. From chaff to dust, we move our byproducts on to composters, livestock farmers, and value-added producers so that our mill is zero-waste facility.