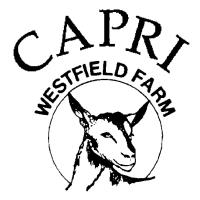 Westfield Farm, MA
Address: 28 Worcester Road Hubbardston, MA,
Email Address: stetson222@verizon.net
About Us
Westfield Farm has been handcrafting award-winning farmstead cheeses in Hubbardston, Mass., since 1971. Located on 20 acres in Central Massachusetts, the farm turns out a little over 1500 pounds of cheese per week. All our cheeses are made from 100% goat milk unless specifically listed as cow. "Chevre" is the French term for goat cheese. "Capri" is the term for the goat cheese made in America by Westfield Farm. Whether called Chevre, Capri, goat cheese or just plain cheese, It is all made farm fresh, by hand and with pride.