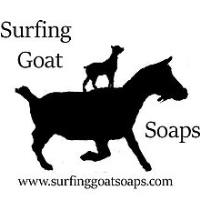 Surfing Goat Soaps, MA
Contact: Patricia Stewart
Address: 18 Kraetzer Road Ashburnham, MA, 01430
Phone: 978-827-1305
About Us
Surfing Goat Soaps started over 15 years ago, as we learned to use the milk from our Nigerian dwarf goats, starting with the soap. It took us awhile to get it down, but we've been selling the soap for over 10 years.

Our goals are to connect our customers to our farm, and to the Earth, through the wonders of our soap. Bringing the beauty of our farm to our customers helps them remember that their choices matter. Everything we use is natural, essential oils, colorants, additives like honey, and of course, our goat's milk.

The fats used in our soaps are chosen with care. We do use palm oil in some, but we source it from sustainable sources. Our Locavore Line is made with lard from our pigs, or those of a neighboring farm who shares our philosophies.

We also pre-cycle, which means we think about how things are disposed of, so our packaging is recyclable, even our shrink wrap, or reusable. We try to minimize packaging which means we won't use extra tissue paper and only minimal, reused packing peanuts etc.

Our business success does not depend upon only on our bottom line. We love our customers, and cherish every one who returns to us. We want to build long lasting relationships with those who buy from us. We hope that will include you, and if you have a request for a soap, please ask us. We'll do what we can.
Practices
Our animals all have run in sheds so that they can choose whether they are inside or out. For the goats, in inclement weather, we do lock them in, but the barn has ample light and ventilation. We are working toward raising more of our goat's feed on site, with native trees, shrubs and edible flowers. These are the natural diet for goats, and with acceptable soil amendments, we believe it is a more natural way for them to get their nutrients than strictly grain and feed.

We do not use any pesticides or herbicides in the raising of our animals or plants, bearing in mind that we live among the wildlife, not apart from it. We use a combination of hand and machine milking for all our does, and use medications only to treat immediate problems, using ample milk withdrawal when necessary.
We drink the milk fresh ourselves, so we are well aware of the need to keep artificial chemicals out of our animal's feed.