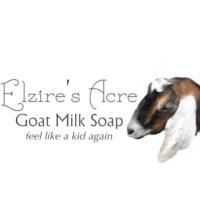 Elzire's Acre Goat Milk Soap, MA
Contact: Chad & Terri Steiner
Address: 111 Wheeler Rd Princeton, MA, 01541
Phone: 978-660-6673
About Us
111 Wheeler Rd, Princeton, MA
www.GetGoatSoap.com and www.GetGoatSoapTV.com to see us in person!
Hand made, hot process (preserves your super fats and essential oils), organic and all natural ingredients goat milk soap from our little organic farm... we feed our goats organic too! Palm free, soy free, colorant free, mica free (colored micas have colorants added) and pigment free (all are lab created now), and many many many different recipes with all kinds of different exotic and local oils for many skin issues and allergies. These soaps have been called, over and over, "Not just a bath, but an Experience". Your daily bathing will never be the same. Great to use as a shampoo (yes, just "brush" your hair with the soap), shaving, face and body. Get "baby butt soft". Everywhere.
Practices
Certified organic hay and grain, natural, free range forage.