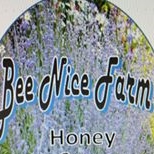 Bee Nice Farm, MA
Contact: Mary Varteresian
Address: 149 Old Westminster Rd Hubbardston, MA, 01452
Email Address: maryvarteresian@gmail.com
Phone: 978-928-5655
About Us
The honey produced by our bees is local, Raw, Unfiltered, and Unheated. Our honey is strained before it is bottled to remove excess wax particles produced during the uncapping process.
We have four flavors of honey, produced by four different flower sources. Spring Blossom - is from the nectar of the first flowers of the spring, and flowering fruit trees, it's a very light-colored honey with a very sweet taste. Wildflower, which comes from the late summer early fall flowers - it's a darker honey with a sweet flavor
Blueberry comes from local blueberry fields, it's also a light colored honey with a very sweet blueberry taste; and Red Bamboo which is produced from the nectar of Red Bamboo (Japanese Knotweed) flower, it's a dark honey with a very bold taste.

Practices
Our beekeeping operation is in the rich farm lands of Central Massachusetts